Updated when I can. College is more important and will probably take up a good bit of time.
I will update ASAP, however.


Extras
Click on the pics to view the Art, Cast, and F.A.Q. Pages.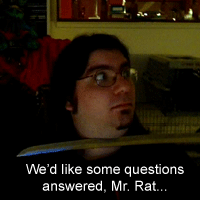 There really is no set method for the reviews.
Reviews are done by members of the LQC Crew. If you'd like to have a review of yours posted,
Email me with your review. It will be evaluated and posted.
Download video SCL
---
This site is best viewed at 1024x768 resolution.
If you have a problem with that, get a better graphics card.
Thanks for clicking! Right, if you're one of the few people that actually like this crappy comic, and you feel you want support LQC in it's efforts of hilarity, then you must be mad. But if you still have the need to share our page, then go for it.
---
Page Copyright 2022 © Shadow The Rat Productions.